CONGRATS丨Four homegrown players join the first team
Three homegrown players from our youth academy, Ma Kunyue (no. 33), Wen Da (no. 39) and Wang Congming (no. 40), were called up to play for the 2019 Chinese Super League. In addition, Lian Dongwei (no. 37) was also placed in the ACL squad for the first time. We give our best wishes to the four young lads and hope they would be able to impress with their performance on the pitch.

Wang Congming (born 16 February 1999, height: 182cm, weight: 69kg) is a defensive player of both the full-back and centre-back positions. Wang was enrolled in the 'Chinese Football Stars of Hope' programme sponsored by the Wanda Group and called up to the Beijing Youth Team. He joined the academy since July 2017 and played for all competitions for the U19 team in the 2018 season as a right-back.

Wen Da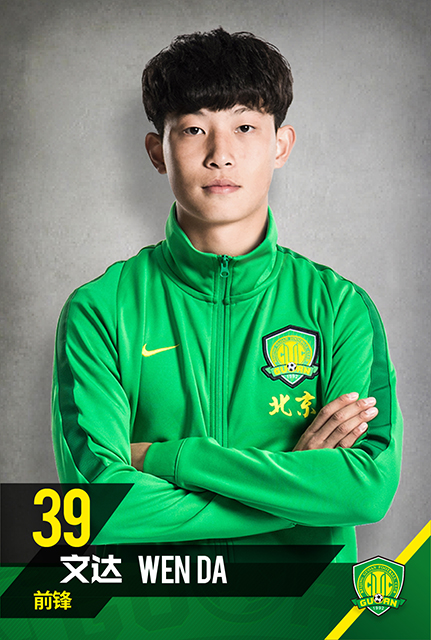 Wen Da (born 25 October 1999, height: 186cm, weight: 75kg) is an attacker capable to play as a winger or a wide-midfielder. Wang played for both the national youth team of China and Beijing Youth Team. Joining the academy since July 2017, Wen has scored 1 goal in the Chinese Super Reserve League. He played for all U19 competitions in 2018 and scored 4 times.
Ma Kunyue
As the youngest member of the first team squad, Ma Kunyue (born 27 April 2001, height: 190cm, weight: 78kg) plays as a goal-keeper. Ma joined the U16 youth team in December 2016, and played for the U17 team in 2018. He has recently been called up for the Chinese national U18B team.
Lian Dongwei
Lian Dongwei (born 21 July 2000, height: 172cm, weight: 67kg) is an attacker and capable of playing the forward, centre-midfielder and wide-midfielder positions. Lian has represented Chinese national youth team in multiple occasions. Transferred from Guangzhou FA to our youth academy, Lian was soon promoted to the reserve team in 2017 and won the third place with the team in the national U18 tournament. In 2018, Lian played for the U19 team.