RESULT | Wang Ziming and Augusto score in the club's 700th top league game
Beijing FC played their 18thCSL match against Beijing Renhe on July 17. The deadlock was broken by Wang Ziming's header in the 6thminute after receiving the left-flank cross delivered by Jin Taiyan. In the 66thminute, the away side brought the game back on level terms through a free kick. In the 80thminute, Augusto was fouled by rival's defender in the penalty area. The vice-captain was able to score on the penalty spot and seal the game. The home victory celebrated the 700th top league match in the club's history.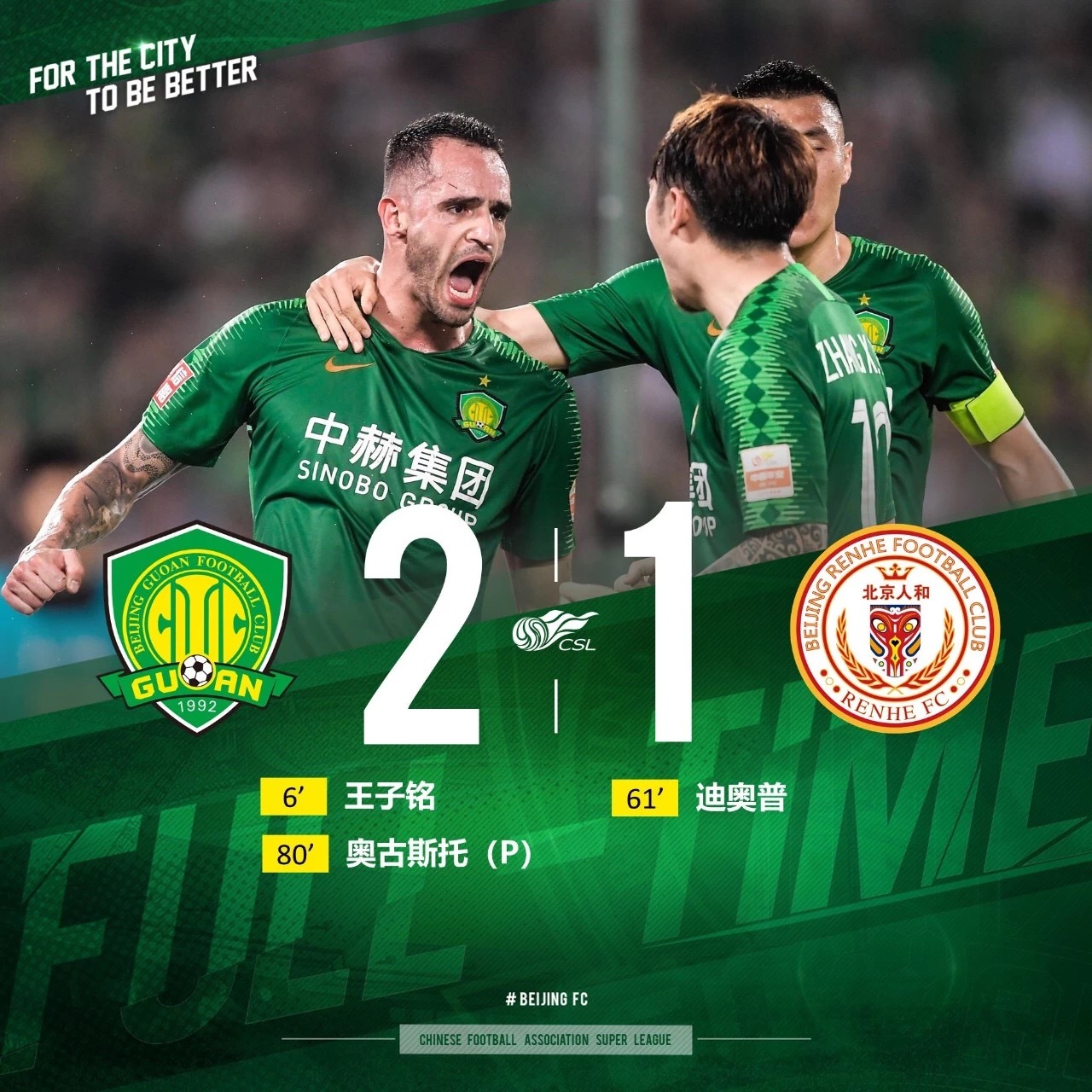 /Highlights/
6' Wang Ziming thundered the header into the net from Jin Taiyan's left-flank cross. Our young striker collected his 5thleague goal and Beijing FC led. 1-0.
79' The referee pointed at the 12-yard spot after Augusto was fouled by the rival's player. The vice-captain capitalized on the penalty and made the lead. 2-1.
86' Augusto's chip from the middle of the pitch almost found the net
/Line-up/
Starting line-up: 14-Zou Dehai; 27-Wang Gang, 19-Yu Dabao, 2-Kim Min-Jae, 18-Jin Taiyan; 5-Renato Augusto, 6-Chi Zhongguo, 8-Piao Cheng, 21-Jonathan Viera (21' 17-Cedric Bakambu); 10-Zhang Xizhe (82' 23-Li Ke), 20-Wang Ziming* (70' 9-Zhang Yuning*)
Unsubstituted players: 1-Hou Sen, 3-Yu Yang, 26-Lyu Peng, 28-Jiang Tao
*U23 players
/The 12thPlayer/
Finally, we would like to express our sincerest regard to our fans. Thanks for your chants and consistent supports. No matter what difficulties may come our way, we would keep on fighting and march forward. See you on July 21stin Nanjing!